2020 Decennial Census
The end of the Census count is approaching, and we need as many of our residents to respond as possible. Each response means more federal funding for Oakwood. Your response is important to our whole community, and it only takes a few minutes.
CENSUS TIMELINE – IMPORTANT DATES
Three Ways to Complete the Census:
You can complete the 2020 Census one of three ways.
Online at www.2020census.gov using a mobile phone, computer, laptop, or tablet
By phone at 844-330-2020 for English, or 844-468-2020 for Spanish
By mail (every household will eventually receive a paper questionnaire if you do not response online or by phone)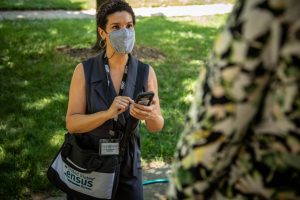 Workers are going door-to-door to help you respond to the 2020 Census. Make sure anyone who claims to be from the Census Bureau has an ID badge with their photo, a U.S. Department of Commerce watermark, and an expiration date. Census workers may also carry Census Bureau bags and other equipment with the Census Bureau logo.
CENSUS 101: WHAT YOU NEED TO KNOW
Everyone Counts. The Census counts ever person living in the US once, only once, and in the right place every ten years.
It's about fair representation. Every 10 years, the results are used to reapportion the House of Representatives, determining the number of seats each state gets in Congress.
It's in the constitution. The Census is mandated by the US Constitution and has been in place since 1790.
It's about $675 Billion. The federal government distributes billions of dollars in funding to states and communities based on Census data for schools, hospitals, roads, public works, and other vital programs.
It's about redistricting. After each Census, State officials redraw the boundaries of the congressional and state legislative districts in their state to account for population shifts.
Taking part is your civic duty. Completing the Census is mandatory: It's a way to participate in our democracy and say "I COUNT!"
Remember, your privacy is being protected. It's against the law for the US Census Bureau to release Census responses in any way that could identify you or your household. By law, your responses cannot be used against you and can only be used to produce statistics.
OAKWOOD COUNTS!
Interested in seeing how Oakwood's response rate compares to the rest of the country? Visit the Census website to access an interactive map.