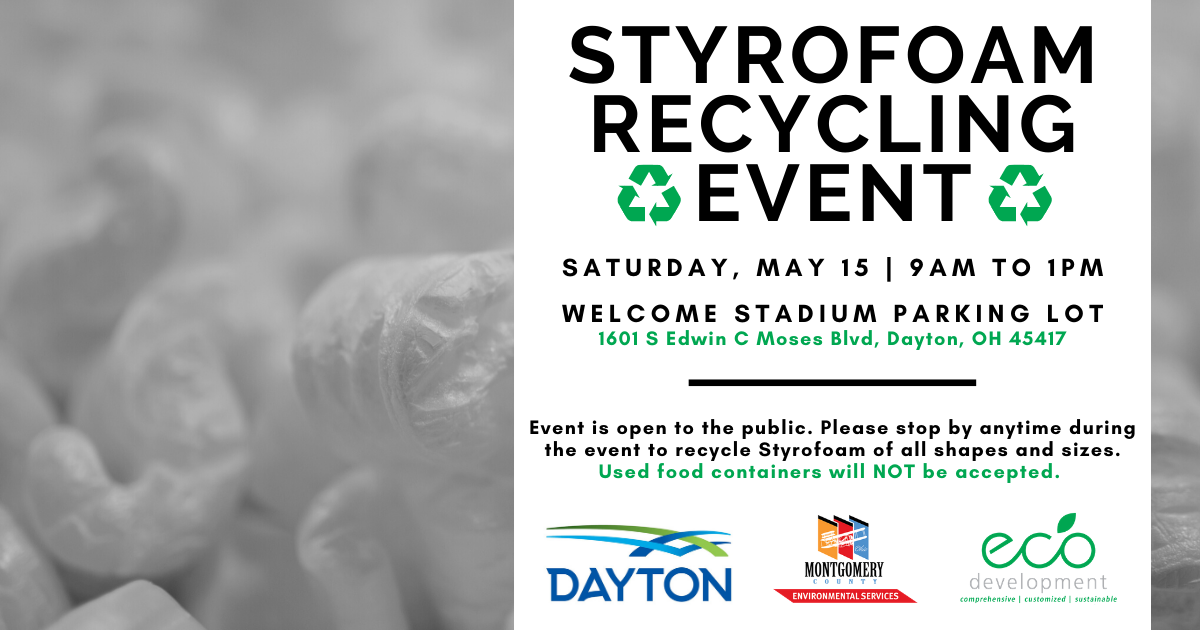 Montgomery County Environmental Services is collaborating with the City of Dayton and Eco Development to organize a regional Styrofoam recycling event. In response to the success of the collection event held in January in collaboration with City of Centerville and Centerville Washington Township Park District, Montgomery County is offering another opportunity to recycle this material.
WHO: Montgomery County Environmental Services, City of Dayton & Eco Development
WHAT: Styrofoam Recycling Event
WHEN: Saturday, May 15, 9 a.m. – 1 p.m.
WHERE: Welcome Stadium Parking lot, 1601 S Edwin C Moses Blvd in Dayton
Between 9 a.m. and 1 p.m. on Saturday, May 15, anyone can bring Styrofoam to Welcome Stadium, where volunteers will unload their vehicles. Those dropping off do not ever need to leave their vehicle. This event is open to the public, regardless of where you live.
Please do NOT bring used food containers. All other Styrofoam will be collected and processed by Eco Development to be recycled into new materials.
Eco Development will transport the collection to its facility in Mason, where the material will be processed and recycled into products like surfboards, picture frames and polystyrene.
Contact Montgomery County Environmental Services (937) 781-2500 for more information.