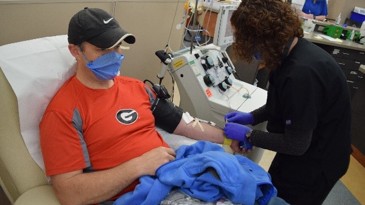 Oakwood Public Safety Officer (PSO) Steve Norris was one of the first two people in the Dayton area to donate plasma after testing positive for COVID-19 in March 2020.  Plasma from recovered patients has virus-fighting antibodies, which can be used to help people battling symptoms of COVID-19.
PSO Norris is a certified Police Officer, Firefighter and Emergency Medical Technician, and has served as an Oakwood PSO since 2011. The City is very thankful that PSO Norris was able to overcome COVID-19, and for his continued service to the Oakwood community and beyond.
https://spectrumnews1.com/oh/columbus/news/2020/05/11/oakwood-public-safety-officer-overcomes-covid-19–donates-plasma-to-save-others
Spectrum News 1 is a Columbus-based cable news station operated by Charter Communications, and they have graciously given us permission to link the video on our city website.