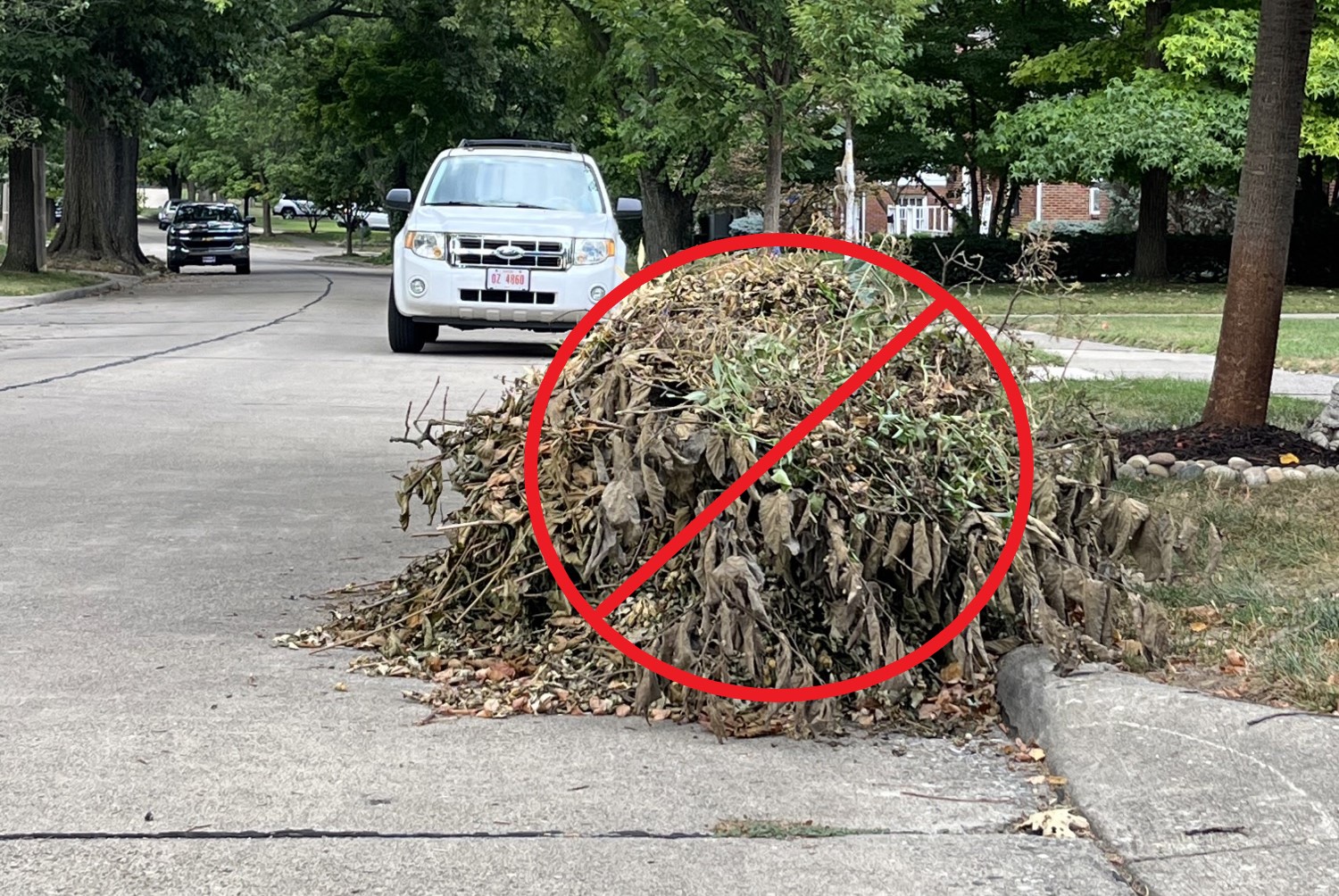 Beginning January 1, 2023, the city of Oakwood will charge a $150 fee per occurrence to property owners who place yard debris in the street in violation of Oakwood Codified Ordinance 913.07. This is an administrative fee for improper debris handling, to recover the costs associated with diverting Public Works resources from regular work to address unscheduled pick-ups throughout the city. This action is being taken to address recurring code violations. Yard debris obstructions in the street pose health, safety and welfare concerns, negatively impact community ambience, and cause delays in the community-wide yard debris collection program. Debris in the street disrupts the stormwater collection system, can be dangerous to vehicles, pedestrians, joggers, and bicyclists, and interferes with on-street parking.
Oakwood offers monthly yard debris pickup by the city where property owners place piles of yard debris – typically brush and branches – at their property frontage just behind the curb or edge of pavement. Under rules of the program, residents may not place yard debris in front of other properties nor in any roadway center medians on boulevard streets, and under no circumstance may property owners or residents place anything in the street or roadway gutter, except leaves during the 10-week fall leaf collection period.
Beginning January 1, 2023, the city's code enforcement officer will respond to yard debris piles placed in the gutter or street by leaving a door-hanger notice at the property affording two business days to remove the obstruction from the street. After two days, the city will remove the obstruction and will charge the property owner $150.
Property owners who use the city's monthly collection program and wish to construct a hard surface pad (e.g., concrete, brick, paver, etc.) for debris placement need to complete and submit a Yard Debris Pad Permit Application. Contact the code enforcement officer at (937) 297-2920 for permitting information.
In addition to the monthly city pick-up, Oakwood offers other options for disposing of yard debris, such as the 24/7 Recycling and Yard Waste Drop-off Facility at the J.D. Foell Public Works Center, 210 Shafor Boulevard. Also, residents are provided two free special pickups per year, which can be scheduled and used for yard debris. Additionally, dumpsters are available to be delivered free of charge for large amounts of green waste. More information on these options is available by contacting the Public Works Center at (937) 298-0777.