Cardboard: About 30 years ago, the city began collecting cardboard for delivery to local cardboard recyclers in two ways. One is through the single stream process where the cardboard is co-mingled with other recyclables (glass, plastics, metal cans, newspaper, etc.) and picked up by the city with the weekly refuse removal.  The second is through the single product cardboard drop-off at the city's yard debris and recycling drop-off facility located at the entrance to the J.D. Foell Public Works Center, 210 Shafor Boulevard.  The preferred method for cardboard recycling is for Oakwood residents to bring their cardboard to the single product drop-off containers at the recycling facility.  As a single product, it has the most value and is most efficiently recycled.  The graph below illustrates how cardboard volumes have increased over the past ten years demonstrating the community's growing interest in and commitment to recycling.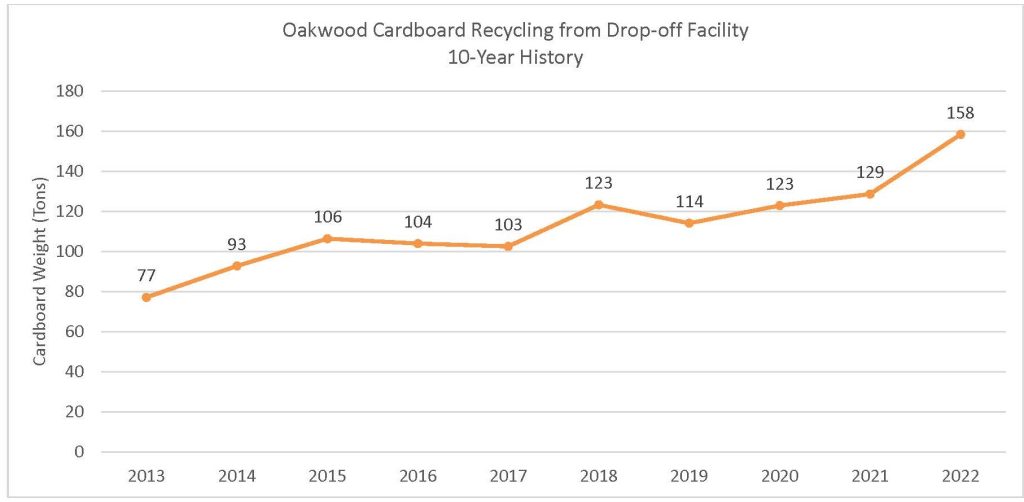 Co-mingled Products: In 1989, Oakwood started city-wide weekly collection of co-mingled recyclables, and it continues to this day. It is a voluntary program, but nearly all Oakwood residents participate.  At the outset of the program, about 60% of Oakwood residents participated.  Based on a survey completed in November 2021, about 92% of Oakwood residents participate.
Recycling and Yard Waste Drop-off Facility:   On November 30, 2021, the city opened a new facility for the 24/7 drop-off of green waste (yard debris), cardboard, and co-mingled recyclables such as glass, plastics and metal cans.  The city recycling facility also accommodates the drop-off of seasonal items such as holiday string lights and provides space for Styrofoam drop-off under a new Montgomery County program conducted quarterly.  The city works with the Green Oakwood citizen group to implement the holiday string light and Styrofoam programs.  The recycling drop-off facility supplements Oakwood's weekly recycling collection program conducted in conjunction with trash collection, and replaced a facility formerly operated from the Creager Dog Park parking lot.  The new location provides for a more efficient drop-off operation and a much more user-friendly environment for facility users.  The total project cost was about $380,000, with $72,000 paid through a recycling grant from the Montgomery County Solid Waste District under the 2021 District Incentive Grant Program.  The grant recognizes and acknowledges Oakwood's continuing commitment to recycling.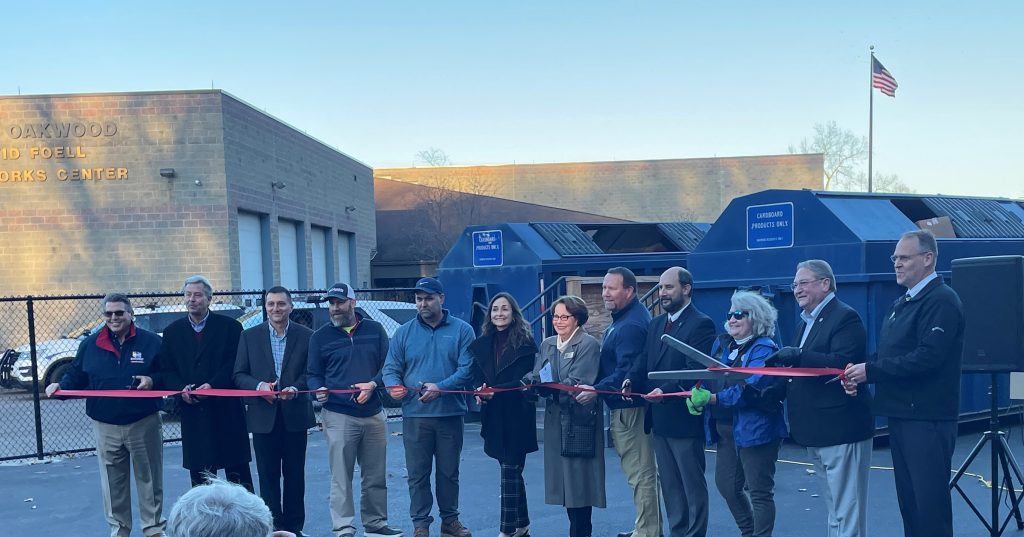 Other: The city maintains numerous recycling containers at parks, in public natural areas, and in city buildings.
Recycling Numbers: In 2022, about 50% of the total waste generated in Oakwood was recycled.