Oakwood Community Center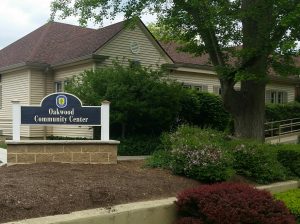 The Oakwood Community Center, located at 105 Patterson Road, houses the department of Leisure Services, and is the home of Gardner Pool. This pool was a gift to Oakwood citizens and provides relaxation from Memorial Day to Labor Day for resident members only.
Membership in the community center allows residents to participate for reduced fees in activities. The first floor includes a "great room" which is scheduled for everything from step aerobics and ballet classes to private weddings and class reunions. A full service kitchen and smaller meeting rooms are also available. Oakwood residents and members receive a rental discount to use this facility.
The lower level of the community center houses the Teen Center and the Health Center and is able to be rented for birthday parties or meetings. Residents sixteen and over with a health center membership may enjoy Nautilus, Universal and free weight equipment in the Health Center, which also features a stair climber, rowing machine and stationary bicycle.  Indoor Cycling class is also held in the Teen Center twice a week.
The Community Center hosts a full range of athletic activities including volleyball, tennis, spring and fall soccer, swim team and swimming. A variety of art, drama, dance, martial arts and fencing classes are offered for all ages. Walking and jogging are probably the city's most popular leisure activities. Route maps and safety guidelines are available at the community center.
"LEISURE LINE" – The Easy Way to Check
Attention all OCC program participants!  Are you involved in a program that may be cancelled due to inclement weather?  To make checking on your program easier, the Department of Leisure Services provides the Leisure Line. Instead of calling the OCC, just call 297-2935 for updates on all your weather dependent programs.  Youth soccer, youth and adult basketball, adult volleyball, tennis and       swimming lessons, Junior High dances and all other programs that may be cancelled due to bad weather will be listed.  The message will be updated throughout the day with the latest details concerning weather cancellations.  Be sure to check the Leisure Line as close to your program starting time as possible.  Please note: no other program information will be available at this number (i.e. registration information or class status) nor will messages be retrieved from this line.  Please call the OCC directly for any other information not related to weather decisions.
Registration Information
The OCC is excited to be able to accept online registrations through our online event registration website at OakwoodLeisureServices.com.
Department of Leisure Services Transfer and Refund Policy 
Transfers or refunds will be issued upon written request through the first day of the activity and prior to the second meeting, minus a $5 administrative fee.  A refund or transfer cannot be granted if by doing so results in below minimum registration causing cancellation of that activity.  Memberships to the Oakwood Community Center, Health Center and Gardner Pool are not refundable or transferable.
*Transfers or **refunds will be issued upon completing a "Request for Refund/Transfer" form prior to the second meeting of any activity.  Sorry, no transfers or refunds will be made after that time.  A full refund will be issued if the activity is cancelled by the OCC due to low enrollment.
*Transfers may be made to any activity published in the current quarterly brochure; a $5 administrative fee is charged at the time the transfer is made.
**Refunds will follow the Finance Department's payment schedule which may take up to 21 days.  There will be no cash refunds and a $5 administrative fee will be charged.