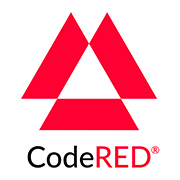 The city of Oakwood uses CodeRED to notify our residents and those who work in Oakwood of emergency incidents and critical community alerts. Oakwood residents also have the opportunity to opt-in to receive automated severe weather alerts via a cell phone. The opt-in service will automatically notify enrollees of tornado, flash flood and severe thunderstorm warnings just moments after an alert has been issued by The National Weather Service (NWS) – allowing residents to take immediate action.
The CodeRED telephone database automatically contains all landlines, but only includes cell phone numbers if they are specifically added to the database.  To add your cell phone number, please go to the CodeRED EMERGENCY NOTIFICATION SYSTEM website.  When you enroll in Code Red, you may opt to receive alerts on your home or cell phone, by email and by text. Please note that because of the emergency nature of some alerts, notices may be received at all hours. Should you wish, you can easily decide later to opt out from receiving future alerts. Please be aware that if you opt out, you will not receive any future notifications including communication about interruptions in service or emergency alerts that are relevant to you.
Your information will remain completely private and will only be made available to notify you of critical situations.