The city of Oakwood owns and operates an outdoor warning siren located at 30 Park Avenue which is activated by Public Safety Dispatchers. This siren emits a constant, oscillating tone used to notify people outdoors of impending danger in order to seek shelter (e.g. tornado).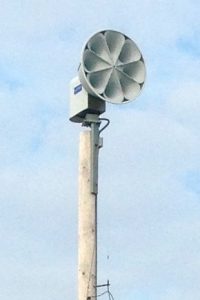 When the siren is activated, you should:
Seek shelter immediately in an interior room or basement.
Tune to radio or TV broadcast for further information.
Before disaster strikes, you should:
Have a family emergency plan in place.
As part of your emergency plan, consider purchasing a NOAA Weather Alert Radio.