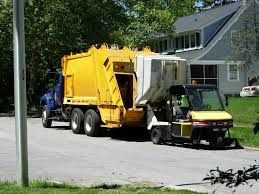 Refuse collection and disposal is one of our primary public works services. We continually look for ways to streamline refuse collection and disposal, and to conduct refuse operations in the most efficient and economical way possible. We thank you for helping us maintain the most unique and comprehensive refuse collection and recycling program in the area, and ask for your continued cooperation in adhering to the rules and regulations. If you have any recommendations or ideas that you think we should explore, please don't hesitate to contact our Public Works Center at (937) 298-0777. Our staff stands ready to listen and respond as appropriate.
Need a new Recycling Sticker? Recycling Stickers are available 24/7 inside the front door of the city building, located at 30 Park Avenue.
The Utility Billing Department can help you with questions relating to charges or invoice inquiries.  Please contact them at (937) 298-0400.
Oakwood has one of the most comprehensive refuse collection, disposal and recycling programs in the Dayton region. Our services include:
Backdoor pickup of weekly household trash.
Backdoor pickup of co-mingled recyclables including paper, newspaper, glass, plastic, cardboard, and metal cans.
Monthly yard debris (green waste) pickup.
Special pickups for disposal of larger household items.
Fall leaf pickup and conversion of leaves to mulch, with free "do-it-yourself" pickup or delivery back to residents for a fee.
Dumpsters for efficient disposal of remodeling debris from "do-it-yourself" projects, or other household or yard items.
The recycling facility located at the entrance of the public works yard, 210 Shafor Boulevard, accommodates the 24/7 drop-off of green waste (yard debris), cardboard, and co-mingled recyclables such as glass, plastics and metal cans.
Opportunities for residents to dispose of large household items and other debris through the monthly drop-off at the Foell Public Works Center, 210 Shafor Boulevard. This is open from 8 a.m. until 12 noon on the first Saturday of each month.
Refuse services are paid through a combination of the monthly refuse fees included with your water, sewer and stormwater bill, and through other miscellaneous refuse user fees. About 20-25% of our refuse costs are related to the collection and disposal of yard debris (green waste). The remaining costs are related to the collection and disposal of all other waste and recyclables. We use modern and efficient equipment to collect and dispose our refuse, but the work is labor intensive. It is important that citizens understand our programs and make every effort to follow the established guidelines. This helps us to stay on schedule and to run an efficient operation.