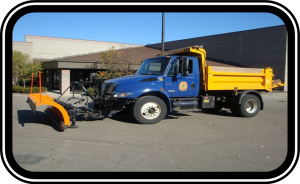 The city of Oakwood started providing the sidewalk plowing service in 1966, and we have been doing it ever since.  We do not, however, apply deicing salt to sidewalks.  The plowing is a unique service intended as a supplement to snow and ice removal performed by property owners.  Under city ordinance, Oakwood residents are responsible for the safe condition of sidewalks on their property frontage.
The safety of our public roadways and sidewalks is a high priority in Oakwood.  In the event of a major snowfall, the city takes the following actions to keep streets, alleys and sidewalks clear:
Street Plowing
During heavy snowfall, we plow every street at least once.  Please help us during snowfall events by not parking your vehicle on the streets, unless absolutely necessary.
Street Salting
Major streets and intersections take priority, along with steep hills.  Flat residential streets may also be salted, but generally to a lesser degree due to environmental and cost considerations.
Sidewalk Plowing
When there is an accumulation of approximately 1" or more of snow, we dispatch our sidewalk plows.  Plows will typically make one pass through the city.  Please remember that while our city offers this unique sidewalk plowing service, under city ordinance it is the property owner's responsibility to keep sidewalks at their frontage clear of snow and ice.
Alley Plowing
Alleys are plowed after an accumulation of approximately 4" or more of snow.
Driveway Plowing
If you are plowing your driveway, please make arrangements so that the snow is not pushed into or across the street.  Also, please remember that it is the property owner's responsibility to make certain their own driveway is clear of snow and ice to allow the city refuse vehicles to collect the weekly trash in a safe and efficient manner.