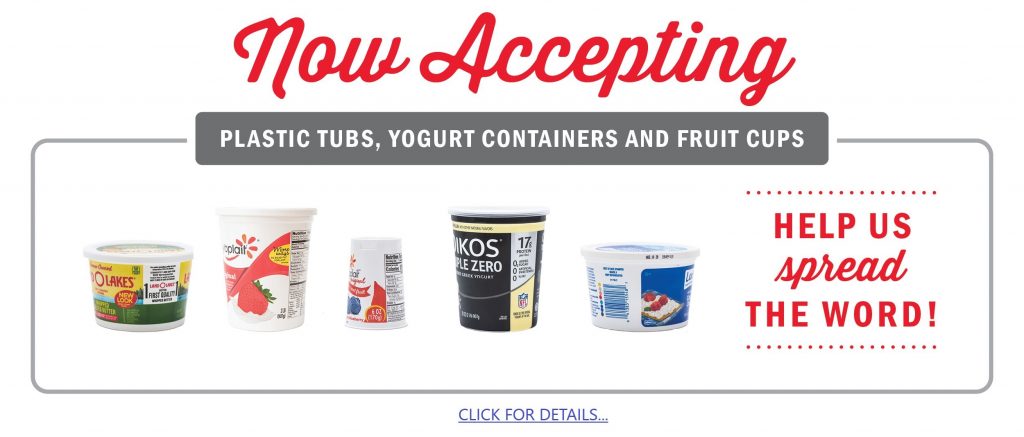 Download the "Recycle These"  flyer for a list of acceptable recycling materials.
Oakwood collects recyclables using scooters with divided dump beds – one side for regular trash and the other side for recyclables. Plastics, glass, paper, metal cans, and cardboard as described below are to be co-mingled in one or more containers marked as recyclables. All items should be clean and free of food and grease. Please make sure that co-mingled recyclable products are placed loosely in the properly marked container. The items should not be placed in plastic bags.  Free "Recyclables" stickers to mark containers are available at City Hall or at the Foell Public Works Center.
It is increasingly important that our co-mingled recycling stream contains only recyclable materials. In years past, the guidance was: "when in doubt, throw it in the recycling container". The guidance is now: "learn what is recyclable and what is not, but when in doubt, throw it in the regular trash". The success of recycling and the recycling markets is largely dependent on the quality of the recycling  stream.
Acceptable Plastics
Small containers and bottles that have a small mouth and a wider base, such as plastic milk containers, soft drink bottles, jugs, detergent, tubs (butter, sour cream, cottage cheese tubs as well as yogurt and fruit cups) & water bottles and shampoo containers. Empty, rinse and crush.
Unacceptable Plastic Items
Plastic items without a bottle neck, trays, plastic cutlery, clamshell plastic containers, plastic bags, straws, toothbrushes, coffee cup lids, plastic toys & bikes, plastic buckets and plastic wrap. Also, foam and polystyrene are presently not recyclable and should be placed in with the regular trash. Please place loose foam packing material in bags before placing it in with your regular trash so that it does not fly out of our refuse scooters and then blow around your neighborhood.
Acceptable Glass Bottles & Jars
All colors of glass bottles and jars. Lids and locking rings should be removed, if possible.
Unacceptable Glass Items
Ceramic & porcelain, drinking glasses, window glass, mirrors, light bulbs and dishware.
Acceptable Metal Beverage & Food Cans
Aluminum, steel, bi-metal cans, and empty aerosol cans are recyclable. Lids and tips should be removed.
Unacceptable Metal Items
Needles, sharps & medical equipment, metal hangers, metal pots, pans & pipes and metal wire.
Acceptable Newspaper & Paper
Newspapers may be co-mingled with all other recyclables. You may also include junk mail, glossy inserts, magazines, catalogs, telephone books, copier paper and all other clean paper products.
Unacceptable Paper Items
Paper plates & cups, take-out coffee cups, hardbound books, tissues, laminated paper, photos, photo paper or specially treated paper, toilet paper, paper towels or contaminated items.
Acceptable Cardboard & Cartons
Cereal, pasta, cookie and cracker boxes, food and beverage cartons, gift boxes, mailing tubes, corrugated cardboard, clean pizza boxes and brown paper bags may be co-mingled with all other recyclables. Please cut or break down boxes and remove plastic items that may be affixed to the cardboard.
Please note that large quantities of cardboard/carton items should be broken down and taken to the recycling facility at the entrance of the public works yard, 210 Shafor Boulevard.  The recycling facility accommodates the 24/7 drop-off of green waste (yard debris), cardboard, and co-mingled recyclables such as glass, plastics and metal cans.
Unacceptable co-mingled recyclables
The following items should NOT be included with your co-mingled recyclables.
Plastic bags
Hazardous or flammable material
Anything exposed to gas or oil
Pressurized tanks
Paint cans (spray & liquid)
Batteries
Clothing & sheets
Wood & yard waste
Car parts
Hoses & chains
Scrap metal
Styrofoam
Pots & pans
Cassette & VHS tapes
Electronics
Coat hangers
Need more information on recycling in Montgomery County? The following websites may be helpful: